What are highlights?
Highlights are an optional color you can add to your base hair color that works to enhance your natural hair color by adding streaks of coloring that are usually a shade or two lighter and darker than your natural hair color.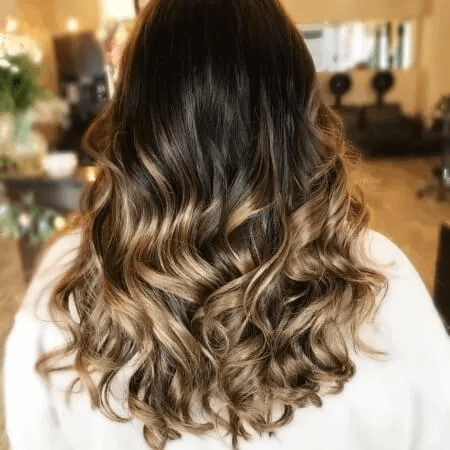 Highlights are an ideal choice if you are happy with your base hair color and don't want to deviate too much but are desirable if you want to add a little more dynamics to your hairstyle, or additionally, add highlights to complement the complexion of your face.
If you're unsure about the best color and type of highlight to get, you are free to consult with one of our hair specialists. They will be able to help you find the right color to suit your skin tone. It's also a good idea to bring along any pictures of the type of highlights you're looking for. This will help us to achieve the desired look.
How long do highlights last?
There are 3 main types of highlight options available: highlighting, single-process color, or double process. Highlights typically last between 6 to 8 weeks, depending on how you take care of your highlights and how fast your hair grows.
Depending on the length of your hair, you may or may not need to get your hair colored more frequently. Shorter hair, or hair that is cut more often will require highlights more frequently whereas if you are not cutting your hair as often, your highlights will typically last longer.
Highlights will also fade over time the more you wash your hair and will eventually blend back into your natural hair color but having your highlights done properly, by a professional, will prolong the amount of time your highlights last. Highlights will also last longer on natural hair than hair that has already been colored.
How can I keep my highlights from fading?
There are some tips and tricks you can use to extend the life of your highlights. One such tip is to wash your hair in cold water and not water. While perhaps not as luxurious as a warm water shower, cool water will protect your highlights more than using hot water. Also, not washing your hair every day will also help prolong the life of your highlights.
One thing to note about washing your hair: it's important to wait at least 48 hours before you first wash your hair after a highlighting session. This gives time for the highlights to set, so don't make this mistake yourself.
Can highlights damage your hair?
One thing to keep in mind is that coloring and adding highlights to your hair can actually damage your hair. This is because the process of coloring and highlighting uses chemicals that can dry out and burn your hair, so avoid getting your hair highlighted too often and try to stick to a cycle of every 6 to 8 weeks for a touch up. You can help to avoid hair damage by using a quality hair conditioner regularly.
To avoid any unnecessary damage, be sure to let your stylist know of any additional hair processing you may have undergone like chemical hair straightening or at-home hair dyes.
Conclusion
Highlights typically last 6 to 8 weeks. Consulting with a hair stylist professional will help to ensure you get the longest lasting results.
Avoid washing your hair too frequently and use cold water instead of hot water when washing your hair. Importantly, be sure to wait at least 48 hours after your coloring session to give time for your highlights to set.
Coloring or highlighting your hair too frequently can damage the hair itself; spacing your sessions 6 to 8 weeks apart will help reduce hair damage.
Bristol Town Hair Fashions has hair color specialists on hand to answer any of your questions and help you achieve the hairstyle you are looking for.
Call or contact us today to set up an appointment!